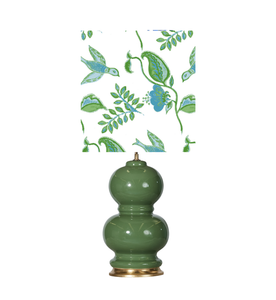 This beautiful designer lamp boasts a stylish ceramic base adorned with a custom made shade.
Each fabric creation starts with a hand painted design that is then printed onto Belgian linen.
Once the fabric is cut to size the shade is then hand crafted to produce a unique and individual item sure to elevate your personal space and provide an incomparable finishing touch to your décor.
Size: See in store for details...
Note: Each item is handmade and fabric patter will very on each lamp.