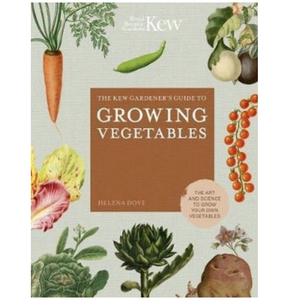 Create your best vegetable garden ever with a few packets of seed and some fertile ground !
In this book Kew's Kitchen Gardener, Helena Dove, combines practical elements with inspiration and beauty. 
She shows how to grow some of the most popular staple crops such as tomatoes, potatoes, radishes and rocket, and also some more unusual exciting choices such as oca, tomatillo, seakale and yacon.
She gives easy to follow instructions on how to be a successful vegetable gardener, plus 12 exciting projects to try throughout the year including forcing rhubarb, creating an asparagus border and growing in raised beds.
From sowing, to planting young plants, to hardening off and harvesting, find out what you need to do and when, to produce the most magnificent harvests.
All the advice is underpinned by the expertise and authority of the Royal Botanic Gardens, Kew and illustrated from Kew's world-famous botanical collection.
Size: 22cm x 17cm