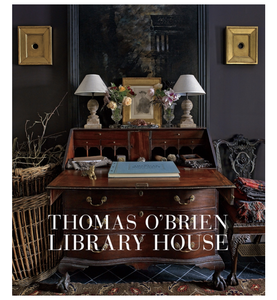 Thomas O'Brien's name has long been synonymous with vintage elegance, modernism, and warm, liveable design, so it's no surprise that his luxurious homes in Bellport, Long Island, have attracted significant attention. 
Thomas O'Brien: Library House captures the gorgeous architecture, interiors, lush gardens, and myriad collections of the effortlessly formal and classic home and design studio (The Library) next door to his celebrated Academy house.  

In describing the process of imagining and building this dream project-a new house that looks as if it had been built over generations-the book also provides a view into how the author and his husband and fellow AD100 designer, Dan Fink, live and work. Stunning original photography documents this incredible, historically detailed residence and showcases O'Brien's keen design sense and his expert eye through a lifetime of collecting art, antiquities, furniture, books, tableware, textiles, and more. 
Including behind-the-scenes stories about the extraordinary property and exclusive insight into O'Brien's passion for gardens, this new book is an obsessive design companion and an aspirational guide to living a beautiful life in a beautiful home.
Size: 25cm x 28cm