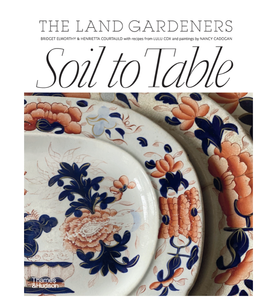 Soil To Table is a celebration of soil and its connection to the food we eat. This sumptuous book by The Land Gardeners is a beautiful collection of essays, recipes, and teachings on soil and food. It is a celebration of how we can put these at the centre of our lives and is essential reading for anyone who cares about the planet and health.
The Land Gardeners share their wisdom on how to care for your soil and London chef Lulu Cox shares her favourite recipes for cooking simple, honest food that brings people together.
Soil to Table is a visual feast with paintings by British figurative painter Nancy Cadogan from her body of work All The Good Things which celebrates our relationship with nature, food and the landscape around us. Soil to Table draws attention to the important link between the health of our soils and the food we eat.
Size: 33cm x 26cm