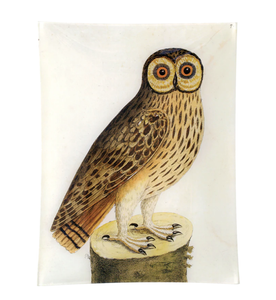 John Derian Company Inc. was established in 1989. John's decoupage is handmade in his studio in New York City, where he employs a small staff of artisans to assist with production. 
Decoupage
John's early obsession with printed matter ultimately led him to decoupage, the art of cutting and pasting paper. Since 1989, he and a small studio of artisans in New York City have been creating glass plates, trays, bowls, and other decorative home items with imagery from his vast and ever-expanding collection of 18th and 19th century prints. His pieces are coveted and collected across the globe.
DETAILS
Each decoupage is handmade to order in our New York studio using reproduced imagery from John Derian's vast collection of antique and vintage prints. Trained artisans cut and collage our designs onto handblown glass. Please allow time for production.
CARE
Do not immerse in water, wipe clean.