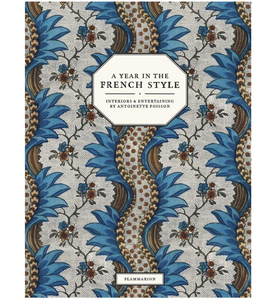 The founders of Antoinette Poisson take readers inside their historic townhouse on the Atlantic coast to discover a style and art of entertaining rooted in French tradition and elegance.
Maison Lescop in Port-Louis, Brittany-the historic residence of an eighteenth-century French importer for the Indian trading company-seemed predestined to become the new home and restoration project for the creative duo behind Antoinette Poisson, a Parisian design team dedicated to reviving the savoir faire of domino paper for home decoration and furnishings.
The art historians became enchanted by the poetic beauty of this artisanal craft-derived from an Indian block print technique-when they uncovered original hand-painted eighteenth-century domino wallpaper while restoring a mansion in central France.
Charmed by the repeat-pattern domino prints-which range from florals and fauna to geometric and ikat-they have appointed their new home with attractive decorative touches-handmade lampshades, wallpaper lined armoires, papier-mâché wedding boxes, assorted table settings, and luxurious textiles.
Celebrating the rhythm of life in France, their adventures range from shopping at the local market and antiquing, to paper making and indigo textile dyeing, and they share seasonal French meals inspired by antique cookbooks. This exquisitely photographed book is a celebration of authentic French style.
Size: 23cm x 31cm