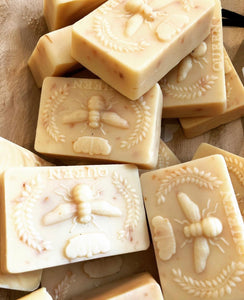 All Natural Oats and Honey Soap is lovingly handcrafted in the Blue Mountains, using only the finest organic and/or cold pressed oils and honey.
The Blue Mountains are World Heritage Listed and the bees enjoy pristine, unpolluted bush land to forage in. The honey and beeswax reflect the seasonal changes of flowering gardens of local villages and contain traces of pollen and propolis.
This soap is very gentle and mild on your skin. It lathers nicely and leaves your skin feeling soft and hydrated.
Rich, nourishing oils have been chosen for this soap to leave your skin clean and conditioned.
Olive Oil has great moisturizing properties that help to soften the skin texture, hold moisture and nourish it without interfering with natural skin function.
Coconut Oil brings anti fungal and anti-microbial properties and adds great big bubbles to the lather
Sunflower Oil is rich in Vitamin E, which is a well known antioxidant. Sunflower oil has wonderful emollient properties helping the skin retain its moisture.
Rice Bran Oil has high percentages of fatty acids – perfect skin moisturizer
All oils in this soap are well known for their moisturizing and nourishing qualities.
Oats have powerful anti inflammatory qualities and help to gently exfoliate your skin.
As with all skincare products, We recommend patch testing prior to use.
Overview
Materials: 

Organic Olive Oil, Organic Coconut Oil, Organic Shea Butter, Sunflower Oil, Honey, Oats, Rice Bran Oil, Essential Oil of Lemongrass