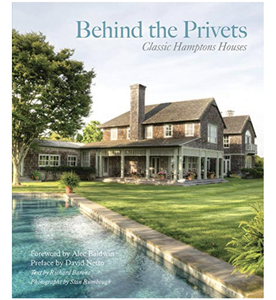 Classic and timeless, these exclusive homes recall the simple glamour of vintage Hamptons design. For every lavish, state-of-the-art, over-the-top home under construction in the Hamptons, there is an equally compelling, culturally significant home that has been restored and maintained its original designs.
This fascinating glimpse inside these classic homes aims to capture the illustrious architecture and design of the Hamptons historic houses. Accompanied by architectural photographer Stanley Rumbough and Hamptons historian Richard Barons, readers are invited over the privet hedges of dozens of homes that offer clues to the Hamptons storied past.
From quaint 18th century cottages to the Sister Parish-style décor of Hamptons legend Dina Merrill, the houses profiled here boast historical significance and impeccable style. Heartfelt contributions from Hamptons icons David Netto and Alec Baldwin recall a time before million-dollar homes dominated the area's pristine beaches and lovely lanes.
AUTHORS: Stanley Rumbough was a fashion photographer turned architectural photographer. His pictures have appeared in Town and Country, Architectural Digest, and Vogue. Richard Barons is Curator of The East Hampton Historical Society, where he was Executive Director from 2005-2017. 163 colour images
Size: 22cm x 26cm