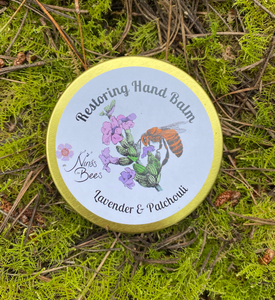 Nina's Bees Hand Balm is lovingly handcrafted at a boutique apiary in the Blue Mountains, using only the finest organic and/or cold pressed oils and beeswax.
This rich, 100% pure botanical hand balm provides long lasting nourishment and protection, leaving your skin feeling silky and moisturized.
BENEFITS
Carefully chosen natural oils give an instant relief to dry and tired skin, making it visibly softer to the touch and leaving it feeling nourished and moisturized.
Natural beeswax forms a light breathable protective layer on your skin, while locking in the luscious oils.
HOW TO USE
Apply a pea size amount of Hand Balm to the back of your hand, massage gently with the back of your other hand. Then massage all over with your open palms. Give the balm 5 minutes to absorb completely. Enjoy the softness of your skin.

Nina's Bees balm can be used on any stubborn or dry patches of skin, anywhere on your body.
We recommend Nina's Bees Shea Butter & Orange Elbow and Heel lotion bar for very dry cracked skin that needs extra love and repair.
STANDARD SIZE :
40 g 
BALM INGREDIENTS:
Organic Extra Virgin Olive Oil, Nina's Beeswax, Organic Coconut Oil, Organic Coco Butter, Organic Camelia Oil, Cold Pressed Grapeseed Oil, Natural Vitamin E, Lavender & Patchouli Essential Oils
As with all skincare products, we recommend patch testing the balm prior to use.
Nina's Bees Restoring Balm is 100% natural, with no stabilizers or artificial fillers.
Therefor it reacts naturally to the ambient temperature: it melts at > 35C and hardens at < 20C.
If it is too hot, please cool it down ( in a cool, dry place), if it is too cold, please warm it up ( in your hands or on your skin).