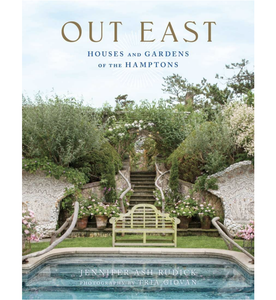 Cool breezes, miles of pristine beaches, and vast, open farmland have long attracted visitors to Long Island's South Fork, known worldwide as "The Hamptons." Residents in picturesque seaside communities from Southampton to Montauk are calling upon world-class designers to fine-tune their visions, giving rise to a fresh design vernacular: homes that are testaments to what can be achieved when inspired by the natural beauty of a unique locale – and when imagination is one's only limitation.
Out East captures the enduring appeal of shingled houses, modernist oceanfront designs, artists' compounds, and Montauk surf shacks.
Jennifer Ash Rudick, a long-time Southampton resident, leads an insider's tour of more than 25 houses, cottages, and pool houses. Tria Giovan, a Sag Harbor-based photographer, captures extraordinary gardens, verandas, lakeside pavilions, farmhouses, and converted barns.
Size: 232cm x 32cm