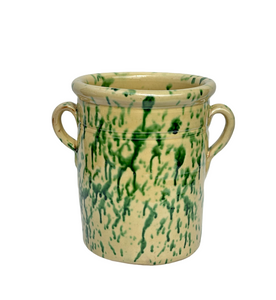 Collette Dinnigan ceramics are hand crafted in Italy.
Each item is an original and has been created using traditional artisan methods.  The distinctive splatter design is unique to Puglia and is guaranteed to liven up your table setting. Each piece will have slight variations due to the handmade quality. Enjoy the rustic appeal of this truly beautiful collection.
·       Hand crafted
·       Terracotta base fired twice
·       Not for use in the oven
·       24cm x 24cm
·       Made in Italy
·       Signed Collette Dinnigan
About the designer:
Collette Dinnigan is one of the country's most successful and celebrated fashion and interior designers. In 2017 Collette was awarded an Order of Australia and was also the Special Guest Editor for Vogue Living's 'Italian' issue.
Collette became the first Australian to mount a full-scale ready-to-wear collection in Paris in October 1995, and in 1996 was invited by the Chambre Syndicale de la Haute Couture to show on the prestigious Paris Fashion Week schedule. In 2008, she was invited to join the esteemed executive board of the organization.
Collette was no overnight success. Hard work and passionate attention to detail have driven her to become Australia's most lauded designer. Her list of awards is long. She won Australian Designer of the Year in 1996, and, most notably, the Louis Vuitton's Business Award in 1997. She received the Award for Excellence from Fashion Group International in 1998. The same year she was appointed Chairperson of The New South Wales Small Business Development Corporation, having previously participated as an advisor to the South Australian Wool Board.
In July 2000, a selection of the Collette Dinnigan 2001 Autumn / Winter collection and her Resort 2001 range were exhibited in the London's Victoria & Albert Museum, for Fashion In Motion. The following year, she teamed up with iconic UK retailer Marks & Spencer to launch well-priced lingerie called Wild Hearts.