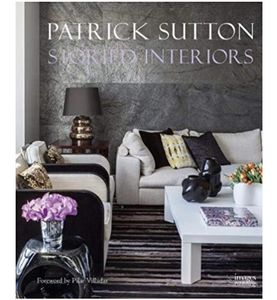 Baltimore-based interior designer Patrick Sutton grew up touring the world with his travel journalist father and fashion model mother. The golden light of Rome, the colourful spices of Marrakesh, the polished marble floors of a Paris hotel: the young voyager developed a vivid visual library of the world's beautiful spaces.
Following his love of design to a career in architecture and interiors, Sutton today draws upon this store of memories to craft unique designs intimately related to his clients and their dreams.

Storied Interiors, Sutton's first book, offers glamorous presentations of 10 residences and four hotels and restaurants, including the award-winning Sagamore Pendry Hotel in Baltimore, but so much more. Each project is accompanied by the designer's narrative of a family, an historic estate, a restaurant.
In addition, he details the eight design principles, from proportion and balance to the effect of different ceiling treatments, through which he translates this narrative, or story, into a complete, evocative interior.

Size: 30cm x 25cm